Cozumel is one of the most popular Caribbean cruise destinations and there is a good reason for that! This small Mexican island has something for everyone; fascinating history, tropical nature, beautiful sandy beaches and sunny weather. 
While there are some significant
accessibility challenges in Cozumel
for disabled and senior visitors, including steep ramps, stones, sand and steps at many restaurants, visiting Cozumel in a wheelchair is definitely possible!
Spend less time worrying and more time enjoying a fun and memorable time in Cozumel with these… 
4 Fully-Accessible Cozumel Shore Excursions
A unique experience!
Visit Punta Sur ecologial park, Celerain Lighthouse, a tequila exhibition and the largest lagoon in Cozumel! You'll also be able to enjoy a delicious traditional Mexican lunch and beautiful views of the beach and coastline. The tour takes place in a 4 door jeep or dune buggy. 
Prices start at $340 for 2 people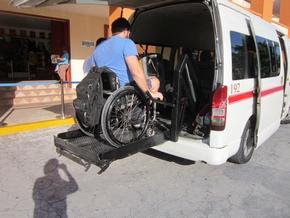 One of our most popular shore excursion! 
Experience the fascinating Discover Mexico Park, the ancient Mayan village of Villa Cedral, a Tequila exhibition or the interesting Mayan Center. You'll also enjoy breathtaking views and photo opportunities as your private driver takes you on a scenic drive. 
More details
Prices start at $360 for 2 people
Relaxing day in the Caribbean! 
On this beach break, you'll enjoy some relaxing time at an accessible beach with beach wheelchairs, accessible restrooms and restaurants! 
There are also options for you to do other activities while at the beach, including watching a free sea lion show, crocodiles, Mayan displays and local shopping. 
More details
Prices start at $250 for 2 people
The best of both worlds!
Beach, Tequila and an ancient Mayan Village! This tour can either be in an accessible van or a jeep – it's up to you how you want to experience this beautiful piece of paradise!
More details
Prices start at $450 for 2 people 
Did You Know?
Contact us today to book your
 Accessible Caribbean Cruise and Shore Excursions!
Travel Wisely,
John Sage, Founder and President of Sage Traveling
---
Email: john@sagetraveling.com
Phone: US: 1-888-645-7920, UK: +44 20 3356 4884
Web: http://www.sagetraveling.com